When we talk about seafood,I'm sure that lobster is one of the first thing that comes into your mind, isn't it?
This is not weird considering that fascinating and beautiful blue color they have when they are uncooked and the delicious pink redish color they get when cooked. However, their color is not their only characteristic. Did you know that they're also beneficial for your health? Yes!
Lobster is one of your best options if you are on a diet or if you want to cut your calories, since it barely has carbohydrates and fats. On the other hand, many people decide to eat it because it's full of vitamins and mineral that help our bodies. In other words, lobster is not only delicious but also a healthy option.
Cooking lobster is also a flexible option, what i mean is that you can cook it with rice, in a soup, with vegetables or with all types of condiments, spices and siders.
In Fred's House we can find more than 5 different ways to prepare lobster.
If you are a person that likes to be surprised with new flavours, you can't miss the opportunity to try the grilled lobster, that is prepared with our homemade seasoning and plated with a yellow corn on the side. You will not be able to figure out its flavor!
On another note, the garlic lobster is the one to go if you want a classic mexican dish with a surprising twist. Here the lobster is soaked in our special garlic butter and then grilled, giving it a beautiful look that you can't miss for anything in the world.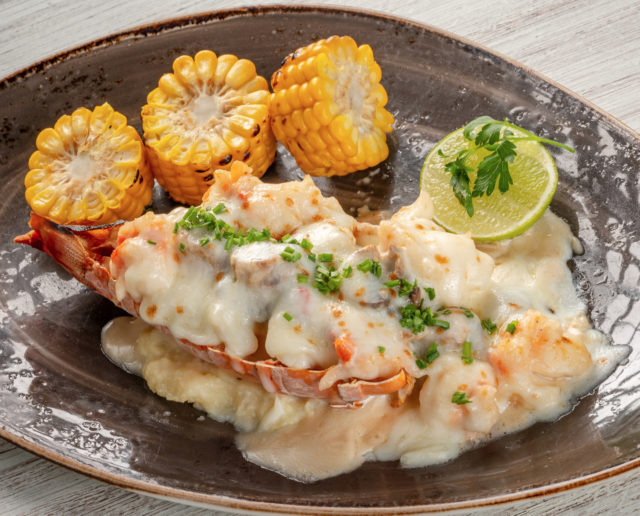 Our famous thermidor lobster is prepared in a very special way. Imagine chunks of mushroom, onion, garlic, and lobster all being flamed with brandy and then mixed with bechamel sauce and a fish fumet in a skillet. If that doesn't persuade you to try it, the plating will, because the lobster is covered by a thin but golden layer of mozzarella cheese. Do you feel like having one now?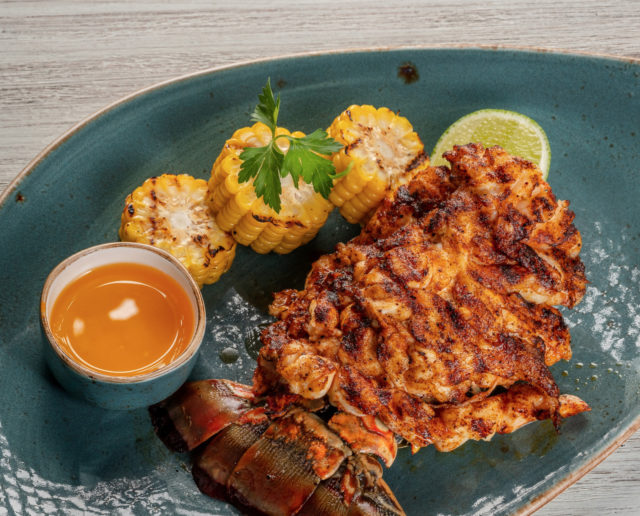 Our own version of a classic from ensenada! The rosarito lobster is perfect if you fancy some tacos as this lobster is plated with flour tortillas, red rice, avocado cubes and pico de gallo. In other words, everything you need to bring a piece of tijuana to the mexican caribbean.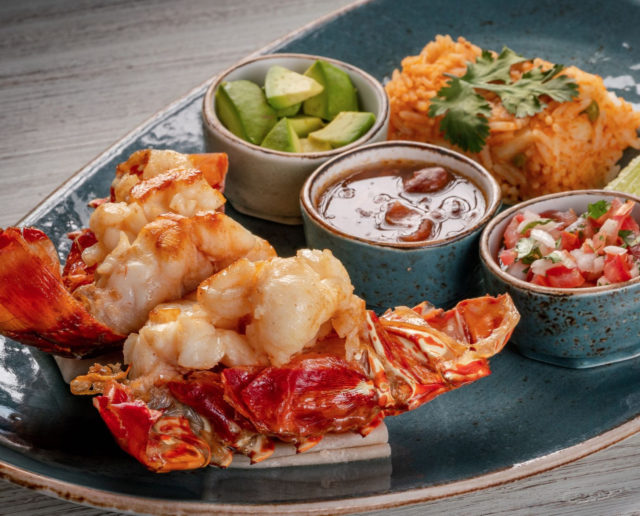 Now, if the thing you want is to savor authentic mexican southern flavours, the yucatan lobster is the one to go. This lobster is varnished in a delicious and traditional achiote sauce, found in most of southern dishes and then it will be grilled with some epazote. This lobster will be plated with the purest yucateco style: with some avocado, pickled purple onion and some bits of chile habanero tatemado. Maybe this dish is only for the ones that truly appreciate the spice.
As its name says, our borracha lobster is made with two types of beverages. It is prepared with a sauce created with the mix of white wine, bay leaves, thyme and a bit of a refreshing beer. And also when plated, it is served with a shot glass full of this tasty sauce, ideal to dip each one of your bites.
Last but not least, our lobster au gratin. It's the perfect combination between one of the best seafood products and the cheese, prepared with a bit of brandy and our secret herb butter, decorated with layers of two types of melted cheese: Chihuahua and manchego. This is a slightly less healthy option, but no less tasty.
You will not longer need to imagine a place that offers all these types of dishes!
You can find all of these lobster styles in Fred's House and if still have space for another thing, you can choose anything from our menu, brought directly from the sea.