TUNA SLICE TOSTADA*
1 pc
Chipotle and coriander mayonnaise, caramelized onion and avocado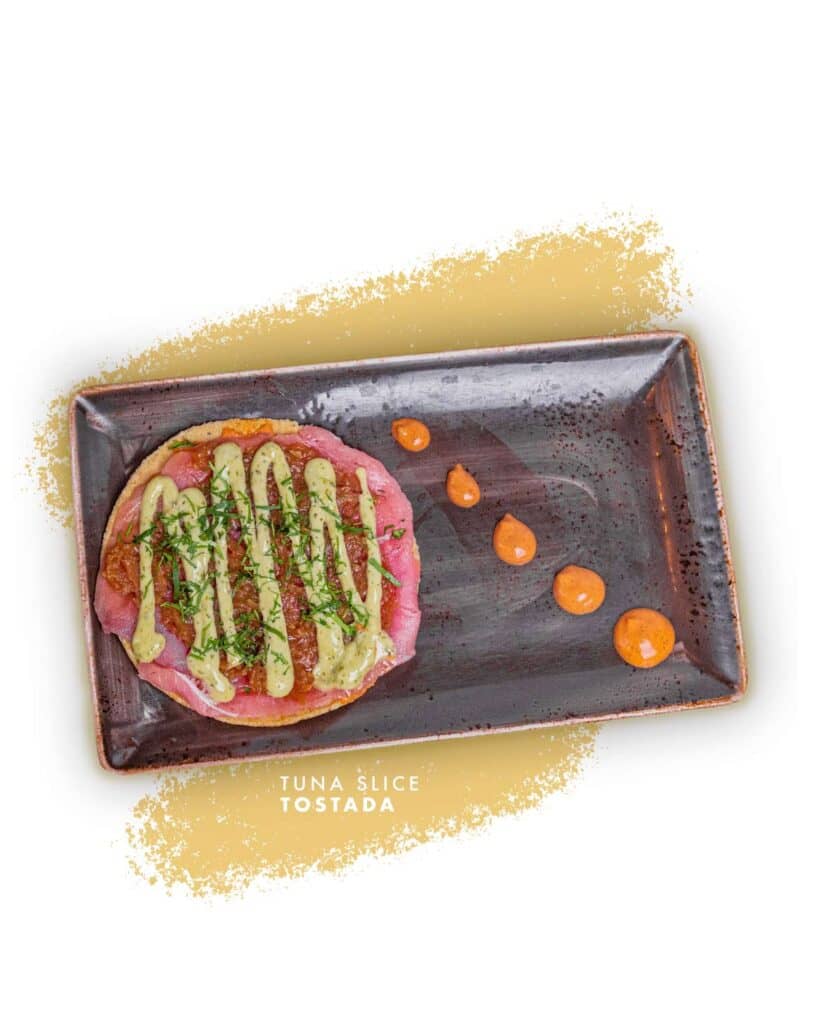 TUNA SAKU TARTAR*
4 oz
Cucumber, avocado, sesame, ponzu, olive oil and carrot crunchies
GREEN SHRIMP AGUACHILE*
5 oz
Cucumber, red onion and serrano chili
SHRIMP COCKTAIL
5 oz
American style
FRED'S AGUACHILE*
5 oz
Shrimp avocado, tomato, spring onion and coriander. In our special house sauce
EXOTIC SALMON TIRADITO*
5 oz
Passion fruit sauce, soy, baby arugula and salt
BEETROOT SLICED
Mushrooms, dried tomatoes, mango, parmesan cheese and olive oil
SCALLOP
7 oz
To choose from:
Chiltepin chilli aguachile
Tropical tiradito
Green aguachile sauce, Sinaloa style
SHRIMPS TO PEEL*
12 oz
Fully cooked. With FRED´S dressing and cocktail sauce
CRAB CAKE
1 pc
Fresh salad, tartar dressing and cherry tomatoes
GUACAMOLE
Panela cheese and pork rinds with chili adobo
CHORIZO MUSSELS
12 oz
Tomato sauce, basil, vodka and Spanish chorizo. With baguette bread
PRETZEL CALAMARI
7 oz
Tartar dressing and tomato sauce
TEMPURA TUNA BITES
3.5 oz
Marinated in ponzu sauce. With guacamolada and chipotle dressing
CRISPY GRILLED OCTOPUS
Chipotle tzatziki and guajillo chili vinaigrette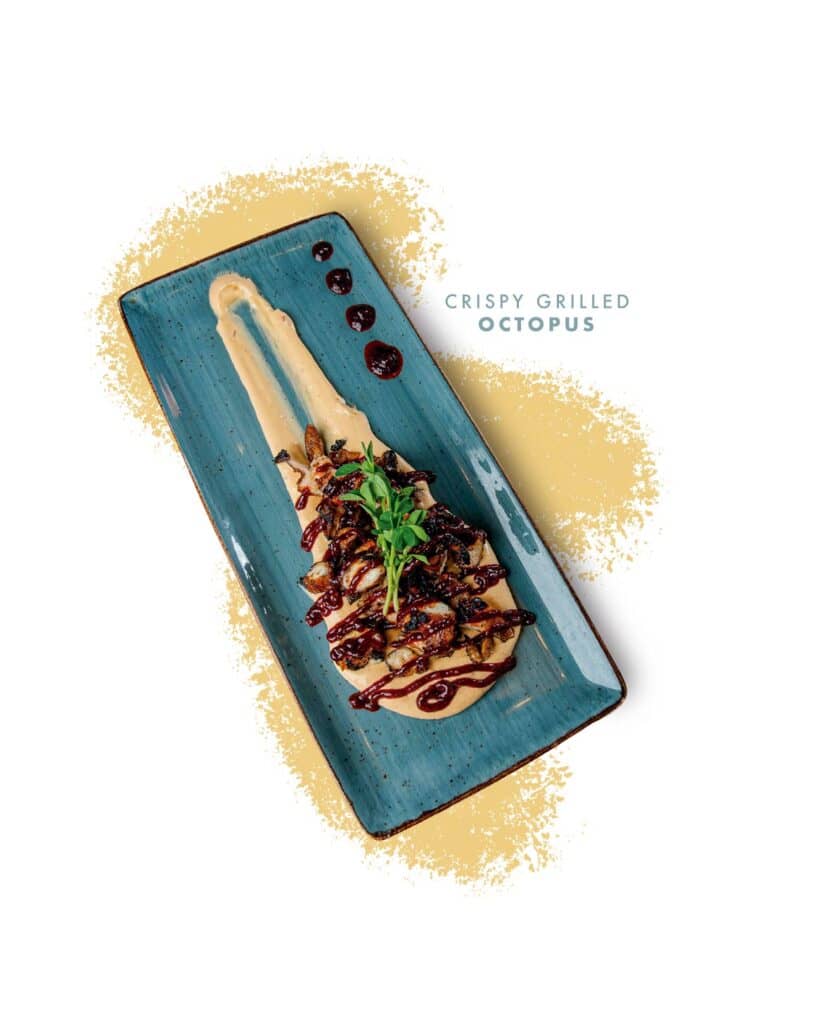 ROCKEFELLER OYSTERS*
4 pcs
Mozzarella cheese, sautéed spinach, cream and bacon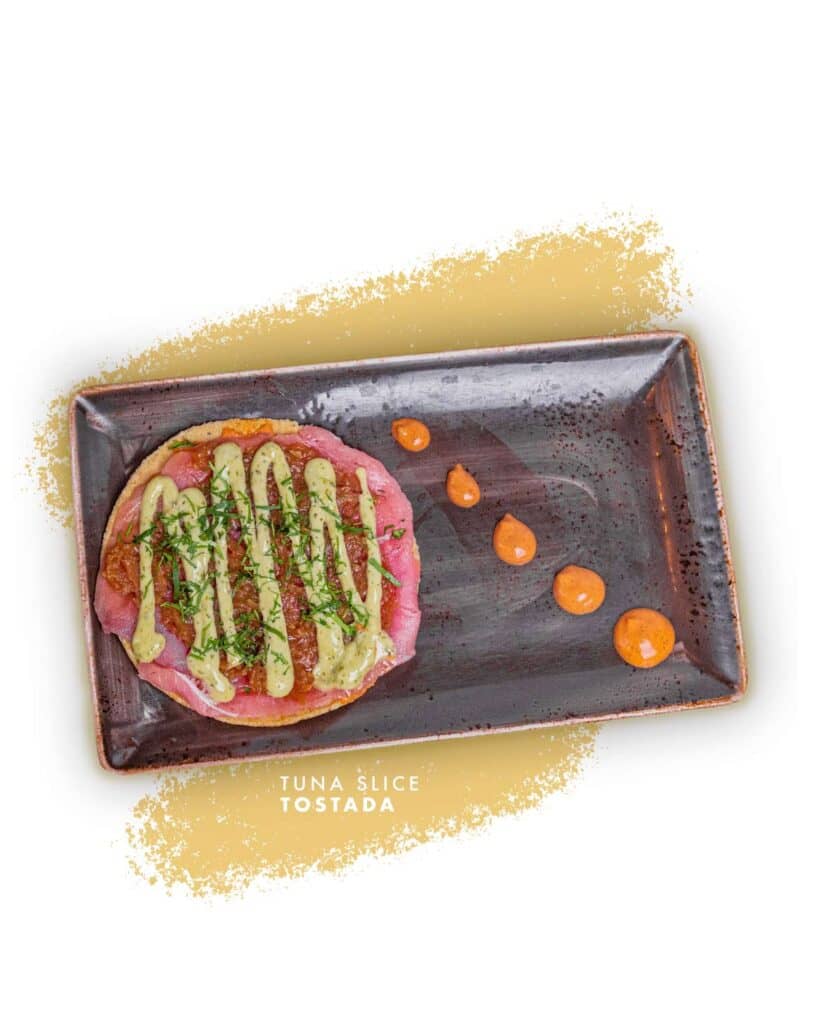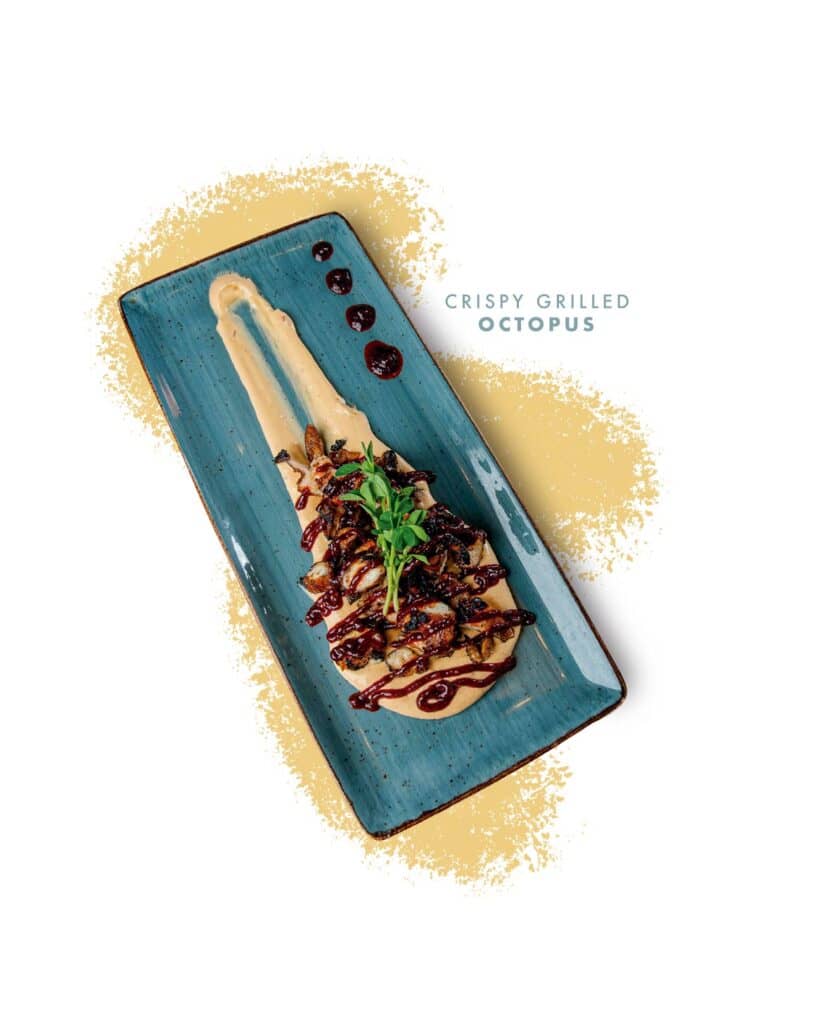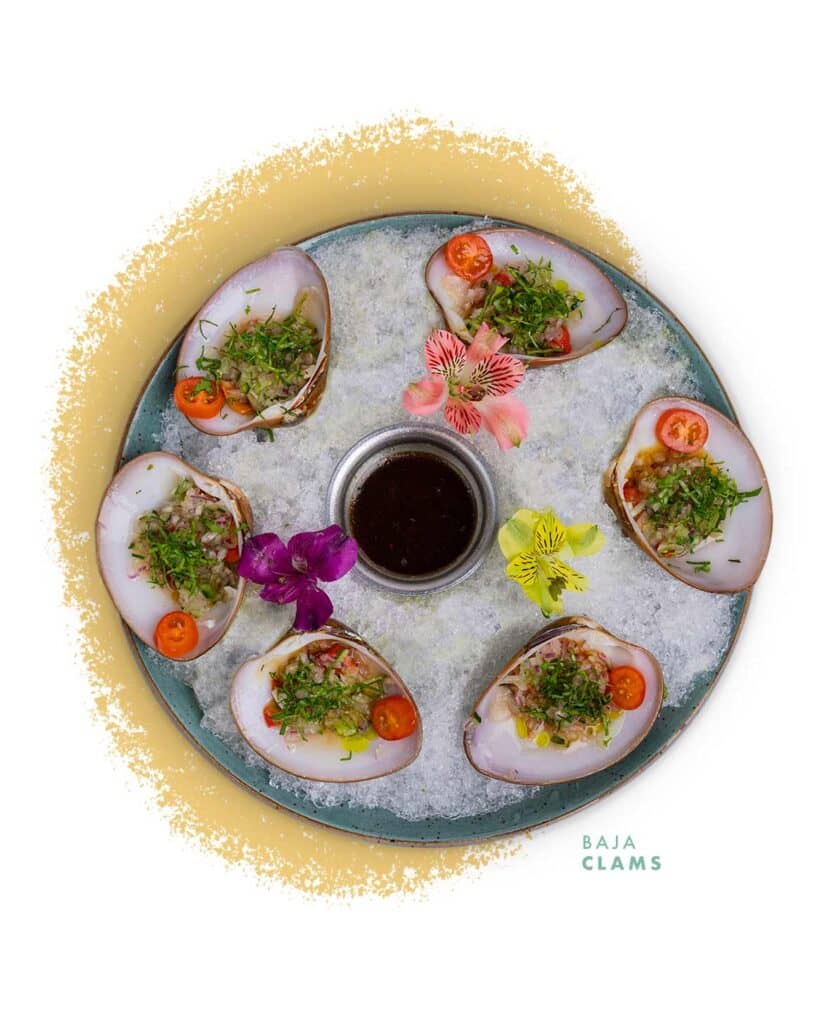 BAJA CLAMS*
6 pcs
Lime juice, cucumber, red onion, cherry tomato, sesame oil and coriander oil
CHOCOLATE CLAMS*
6 pcs
Sauce to choose:
Ponzu
Tropical with mango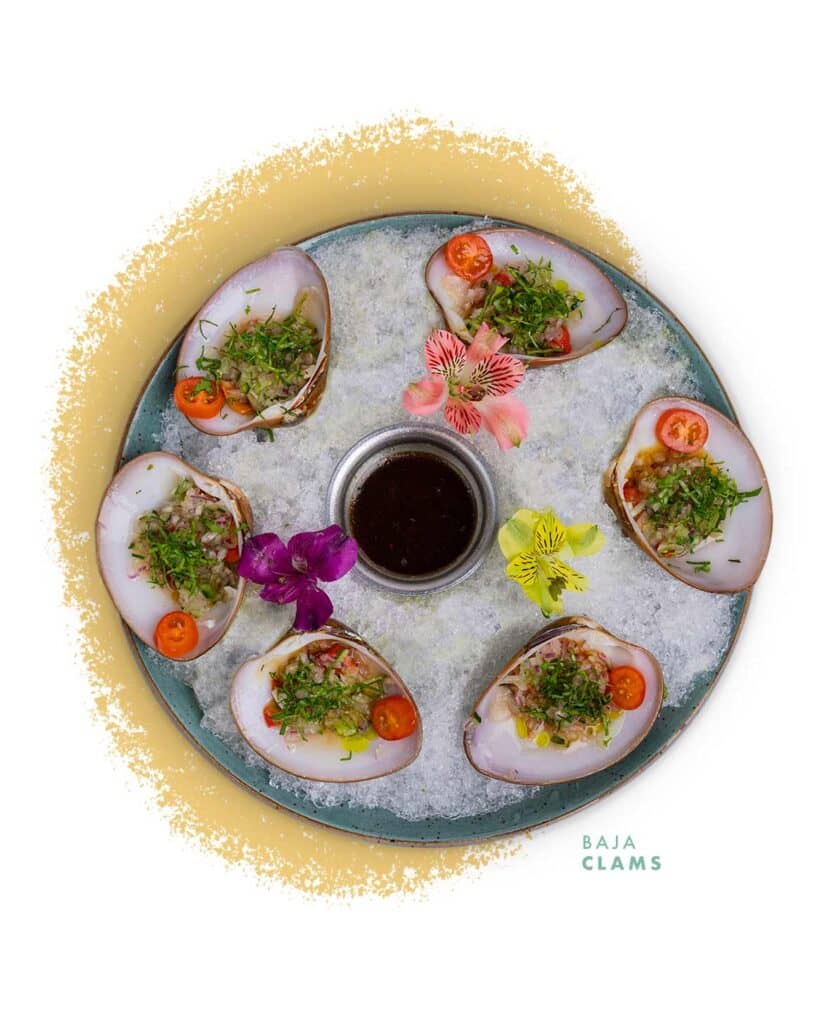 PAI PAI OYSTERS*
6 pcs
Sauce to choose:
Ponzu and sesame oil
Tropical with mango
YUCATAN CEVICHE
5 oz
Avocado, coriander, red onion and habanero chilli
To choose from:
Shrimp
Fish*
Octopus
Mixed*
CARIBBEAN CEVICHE
5 oz
Avocado, red onion, jicama, mango, cucumber and tomato. On a pineapple carpaccio with salt and guajillo oil
To choose from:
Shrimp
Fish*
Octopus
Mixed*
SALMON TACOS

3 pcs
Handmade corn tortilla with cheese crust, bean sauce, guacamole, caramelized onion and coriander.
Clamato and chiltepin sauce
MARINATED SHRIMP
3 pcs
Corn tortilla, with mixed cabbage salad, avocado, cilantro and chipotle dressing
BAJA STYLE
3 pcs
Flour tortilla, battered fish, coleslaw and coriander
LOBSTER QUESADILLAS
4 oz
Flour tortillas, cheese blend, bacon, lobster and spring onion. With french fries, guacamole and pickled chili peppers
CRUNCHY CRAB
2 pcs
Fresh jicama tortilla, tamarind and cucumber dressing. With fresh coleslaw
PASTOR TACOS
3 pcs
Vegan marinated meat, pineapple and coriander. With avocado green sauce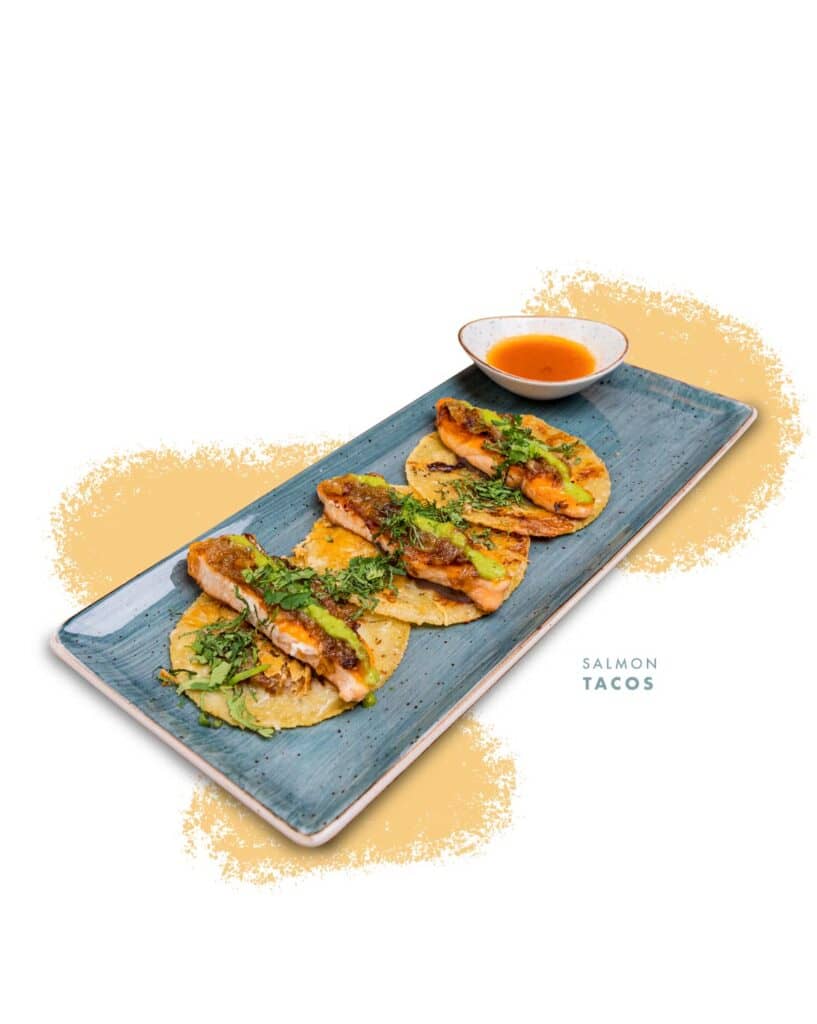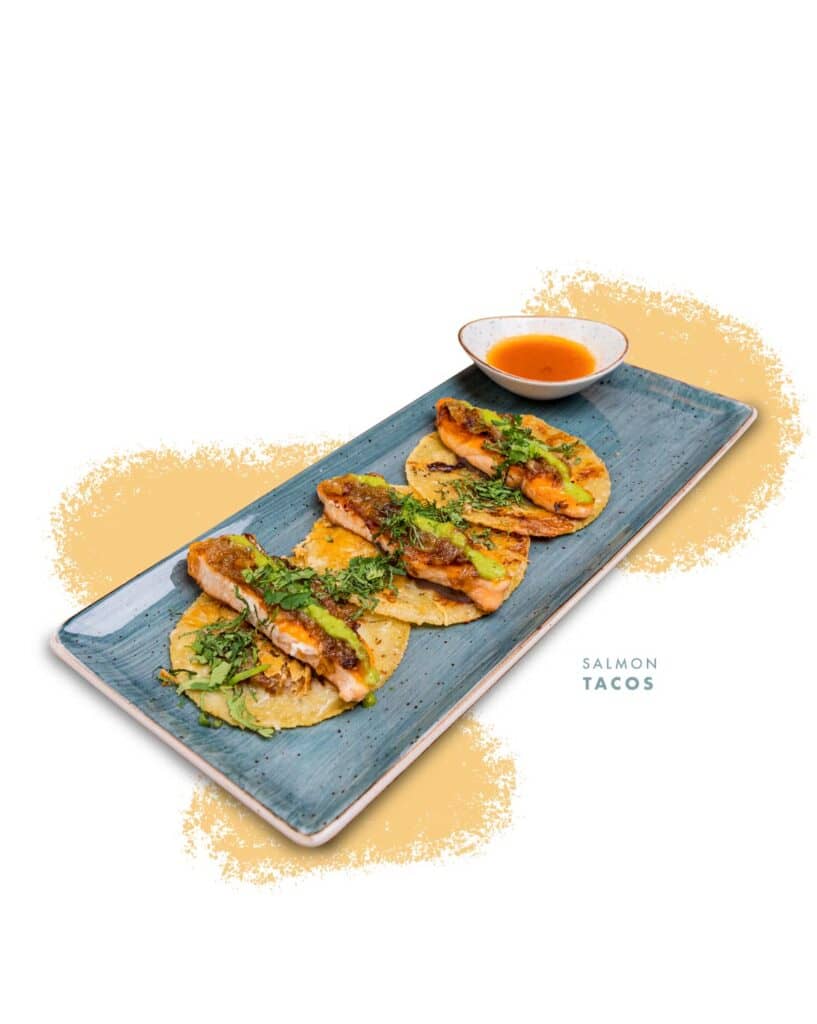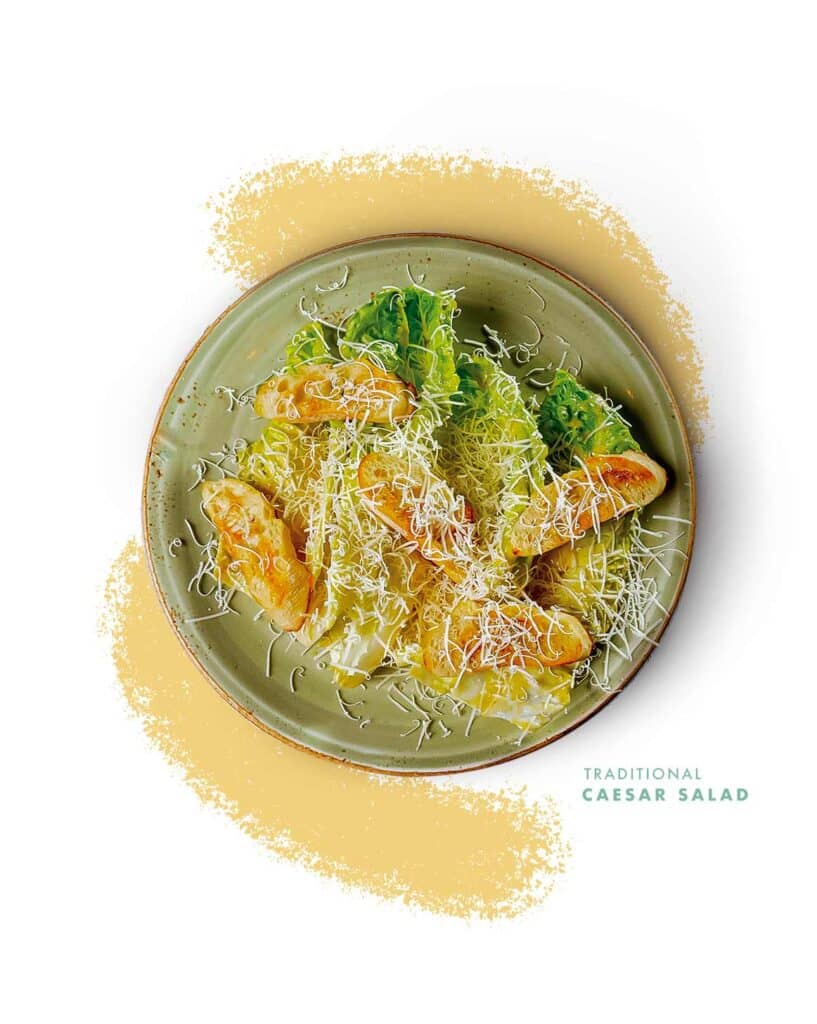 CLAM CHOWDER
Clams in white wine, brunoise potatoes, crispy bacon and white clam pulp
TRADITIONAL CAESAR*
Original recipe
With shrimp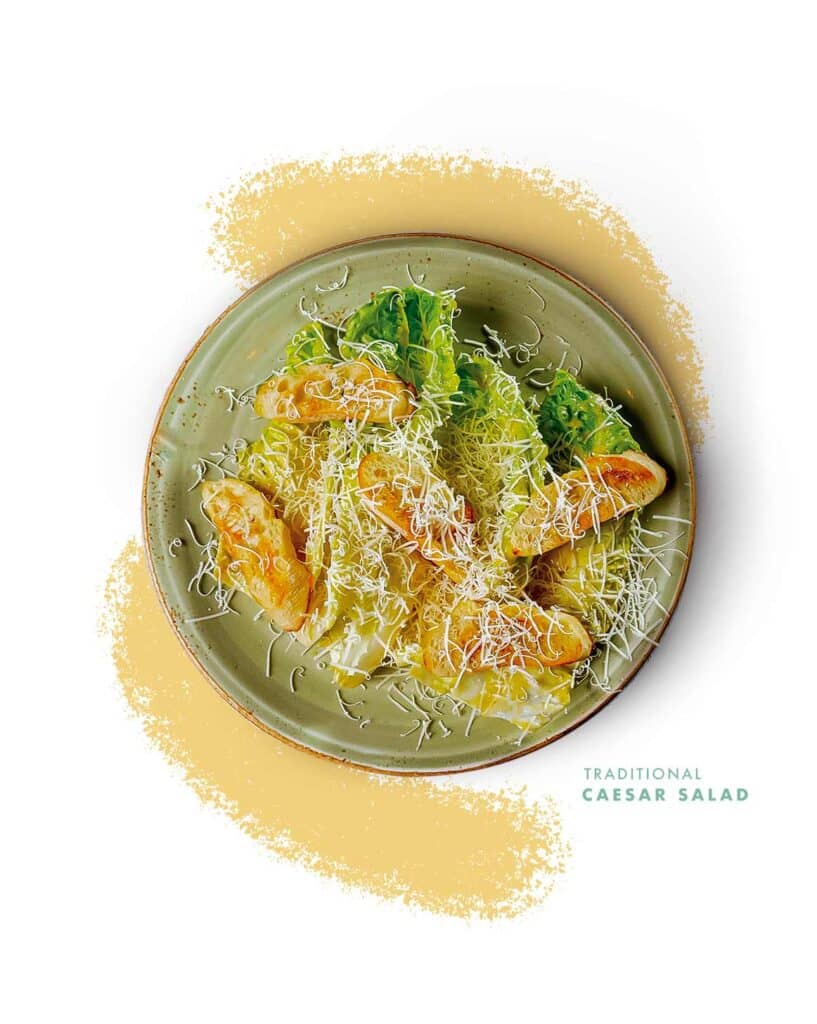 LOBSTER BISQUE
Lobster medallion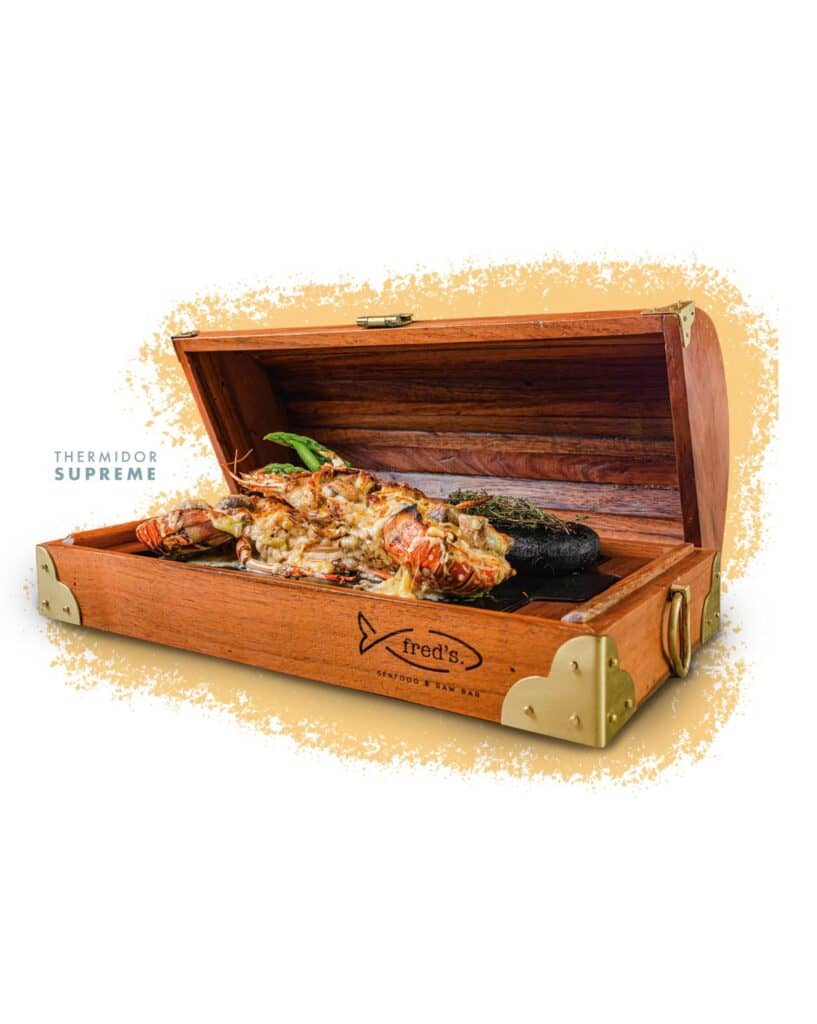 A FRED'S MUST! THE ONLY RESTAURANT IN CANCUN WITH 6 DIFFERENT PREPARATIONS.
THERMIDOR SUPREME
28 oz
Butter, mushrooms, bechamel sauce and mozzarella. Flamed with brandy
CARIBBEAN LOBSTER TAIL
10.5 oz
To choose from:
Garlic Mojo
Butter
Grilled
Steamed
Adobo Chilli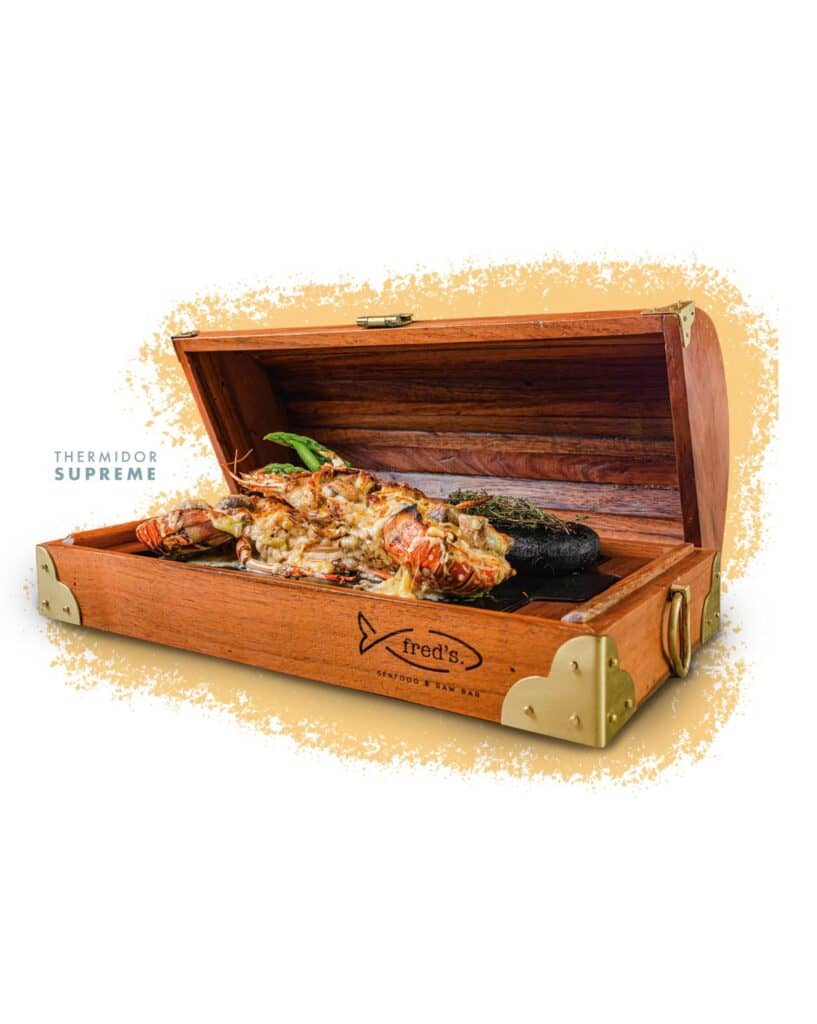 RIB EYE BURGER
7 oz
Mozzarella cheese, roquefort dressing, gravy with sherry sauce and arugula salad. With french fries, gravy dressing and parmesan cheese
RED HOOK ROLL
Lobster tail (4 oz), celery, lemon, mayonnaise, butter, chives and Dijon mustard
CLASSIC ROLL
Lobster tail (4 oz) in butter, with coleslaw: Carrot, apple, lemon and mayonnaise
SALMON BURGER
7 oz
Ginger mustard mayonnaise, tomato sauce, mozzarella cheese and arugula salad. With french fries, sriracha ginger mayonnaise and avocado mousse
PAELLA DI MARE
Grouper fish, shrimps, octopus, black mussels, clams, calamari, chicken, pork and bell pepper
TUMBADA RICE
Black mussels, shrimps, clams, whole crab and octopus
SCALLOPS RISOTTO
Mushrooms, asparagus, white wine, parmesan cheese and truffle oil
RISOTTO
Sautéed mushrooms and white wine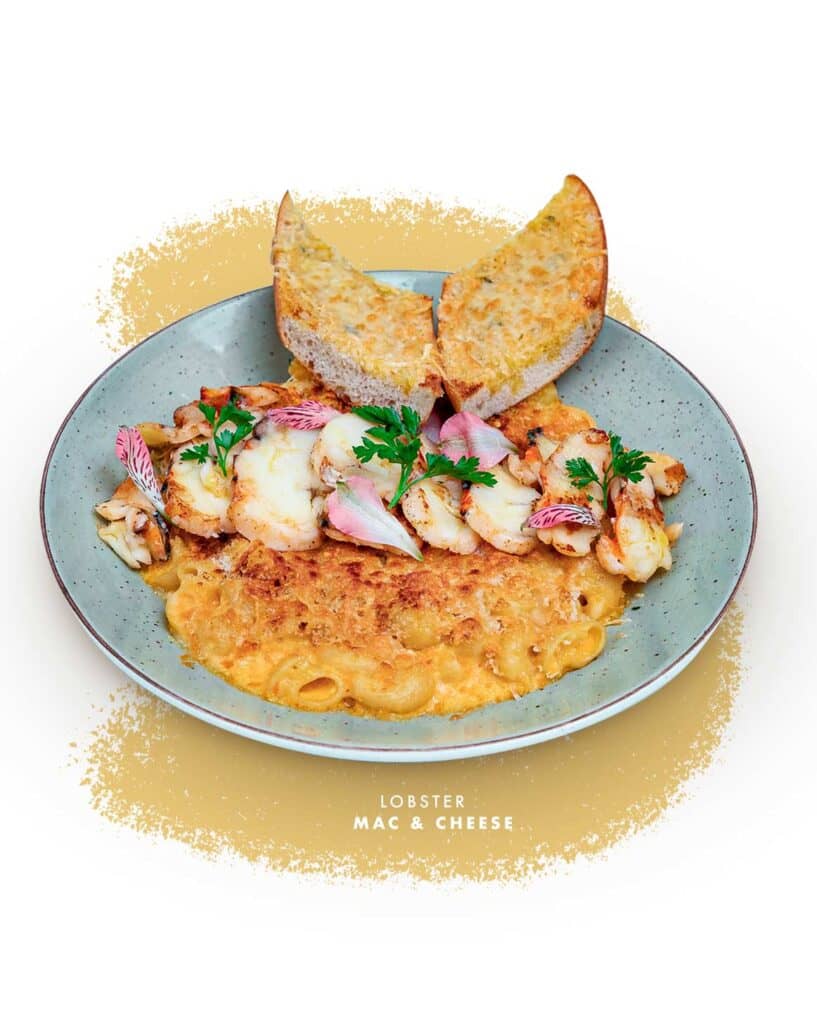 SHRIMP FRED-TUCCINI
Cheese blend and white wine
SALMON CAPELLINI
Lemon butter, dried chili, pine nuts, white wine and salmon bites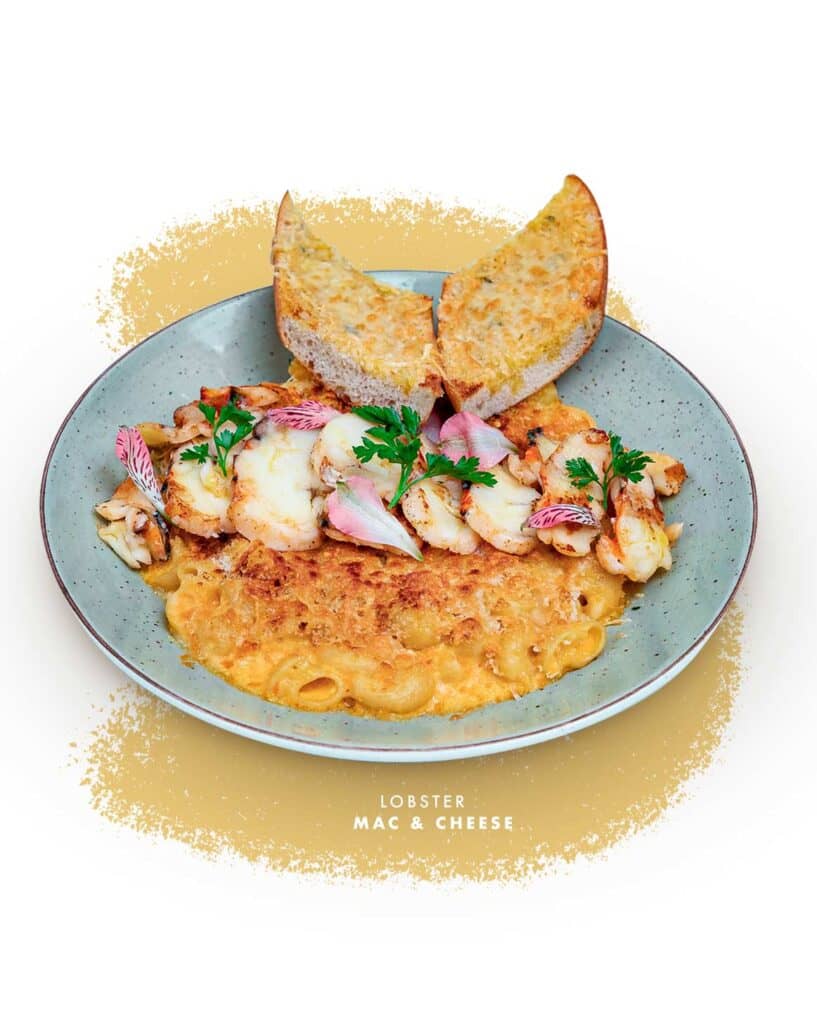 FISH
30 oz
To choose from:
Fried with garlic flakes
Grilled with guajillo chilli
Flamed with salt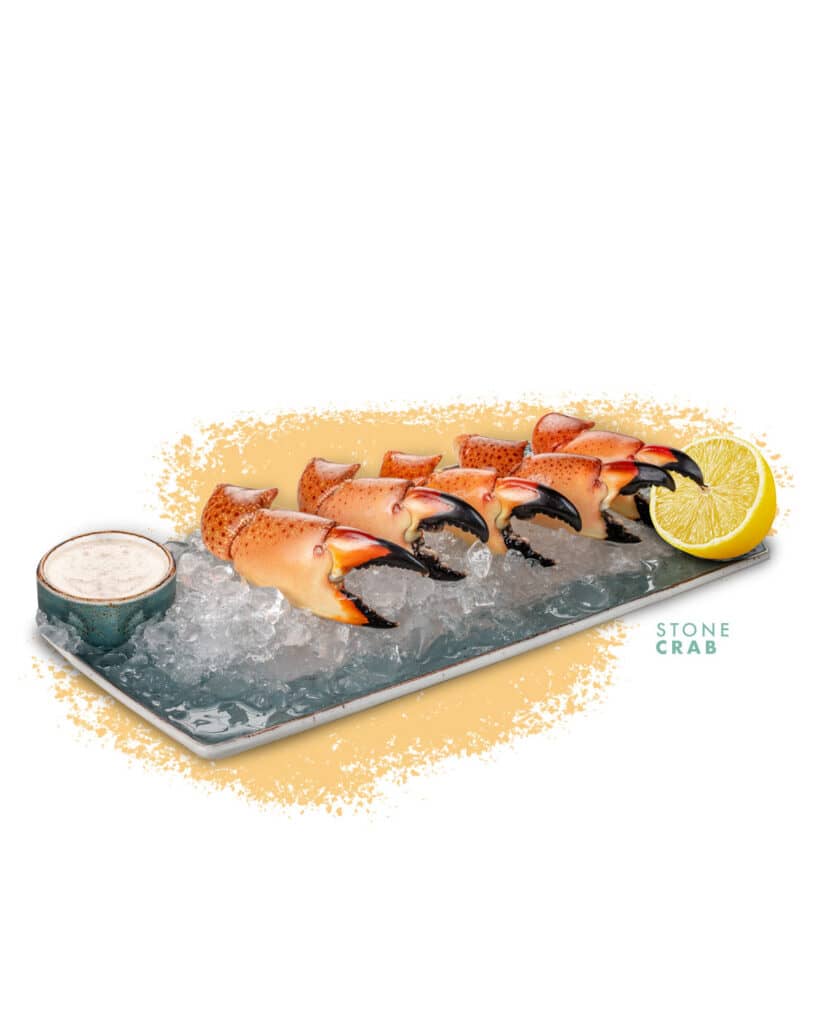 FISH N' CHIPS
6.5 oz
Mango-pineapple sauce, tartar sauce and french fries
WHOLE FRIED FISH
9 oz
With lettuce salad and avocado
ALASKAN KING CRAB
12 oz
To choose from:
Natural
Butter with scent leaf
Garlic sauce
Grilled
STONE CRAB
14 oz
To choose from:
FISH FILLET
9 oz
Garlic mojo
Grilled
Adobo chili
A la diabla
GRILLED SALMON
10 oz
Red bell pepper sauce, asparagus and smashed potatoes
TUNA MIGNON
5 oz
Wrapped in bacon, seared on the grill. With mashed potatoes, buttered asparagus, roasted cherry tomatoes and sherry sauce
OCTOPUS WITH BONE MARROW
10 oz
Adobo chili sauce, roasted tomato and olive oil
MOJO SHRIMP
7 oz
Garlic sauce, crispy plantain and black rice
FLAMED CRISPY COCONUT SHRIMP
7 oz
Coconut and habanero pineapple sauce. With spring rice. Flamed tableside with rum
DRIED CHILLI-CRUSTED FISH FILET
9 oz
Pasilla, chipotle and morita chili crust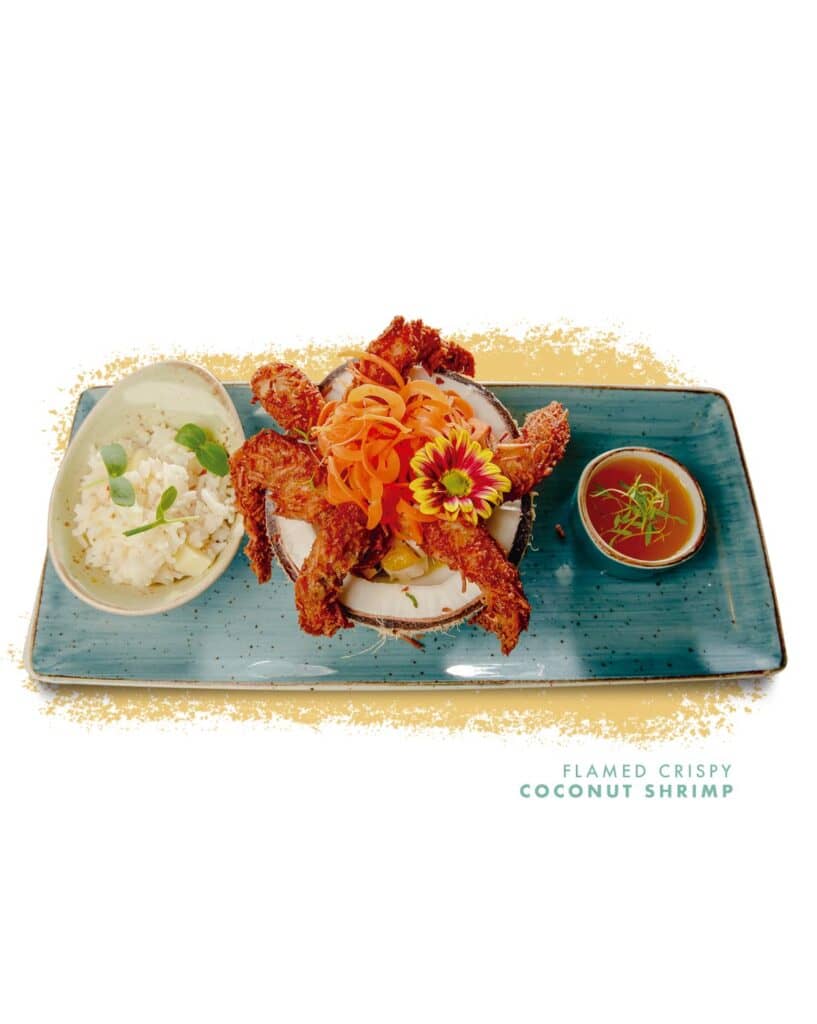 CRAB ENCHILADAS
3 oz
In corn tortillas with cheese blend, bacon and Lump crab meat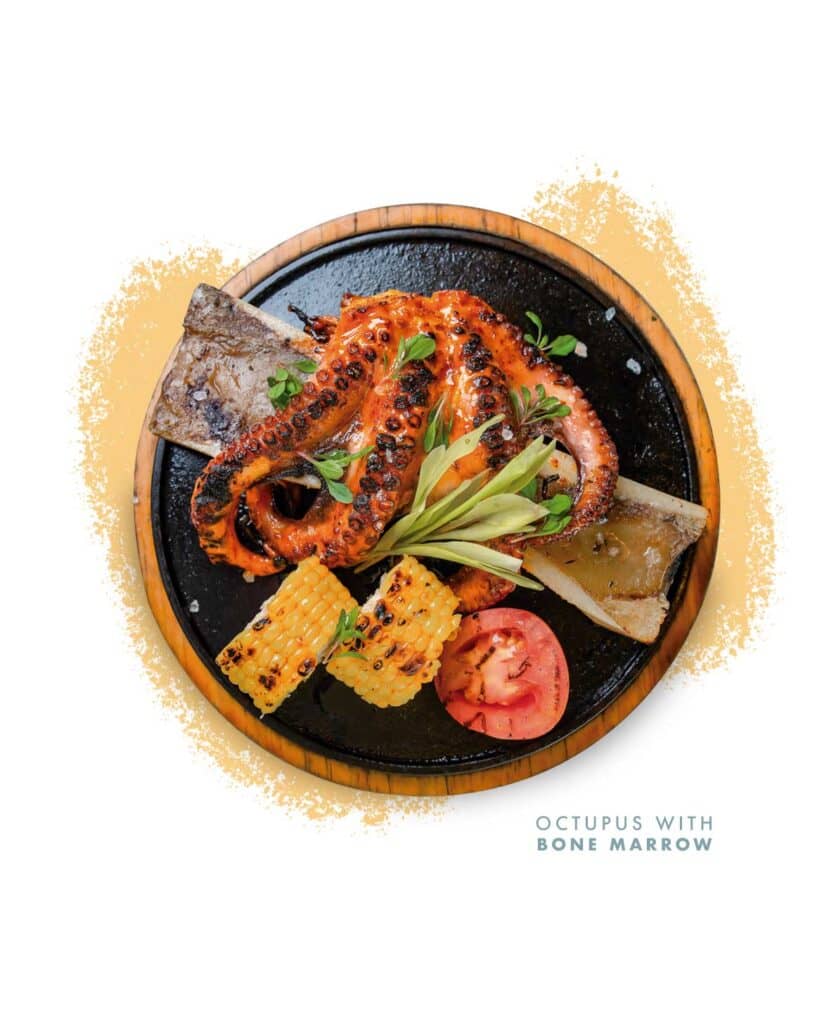 CRISPY CHICKEN
7 oz
Crispy chicken breast and gravy. With mashed potatoes and grilled yellow corn
MIGNON FILET
8 oz
Sherry sauce and mushrooms
RIB EYE
12 oz
Grilled yellow corn and honey mustard
BEEF FILLET
21 oz
Seared on the grill. With roasted garlic butter and parsley.
Prepared tableside and flamed with mezcal
GRAND TOMAHAWK
42 oz
High Choice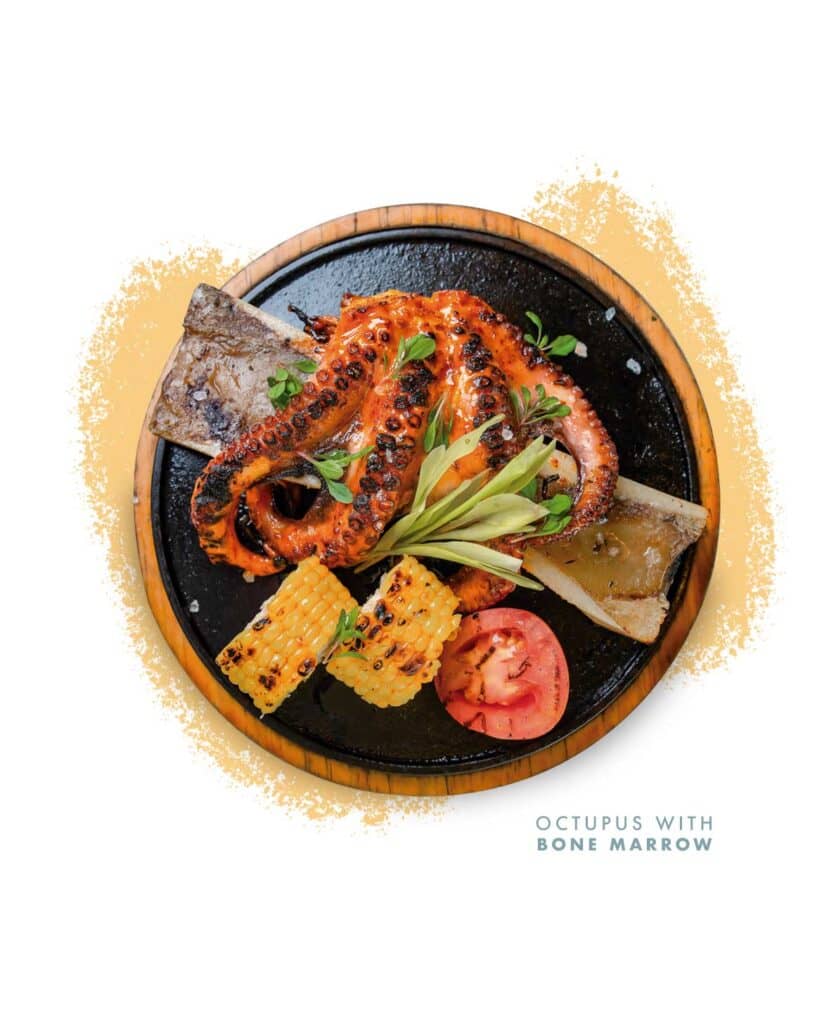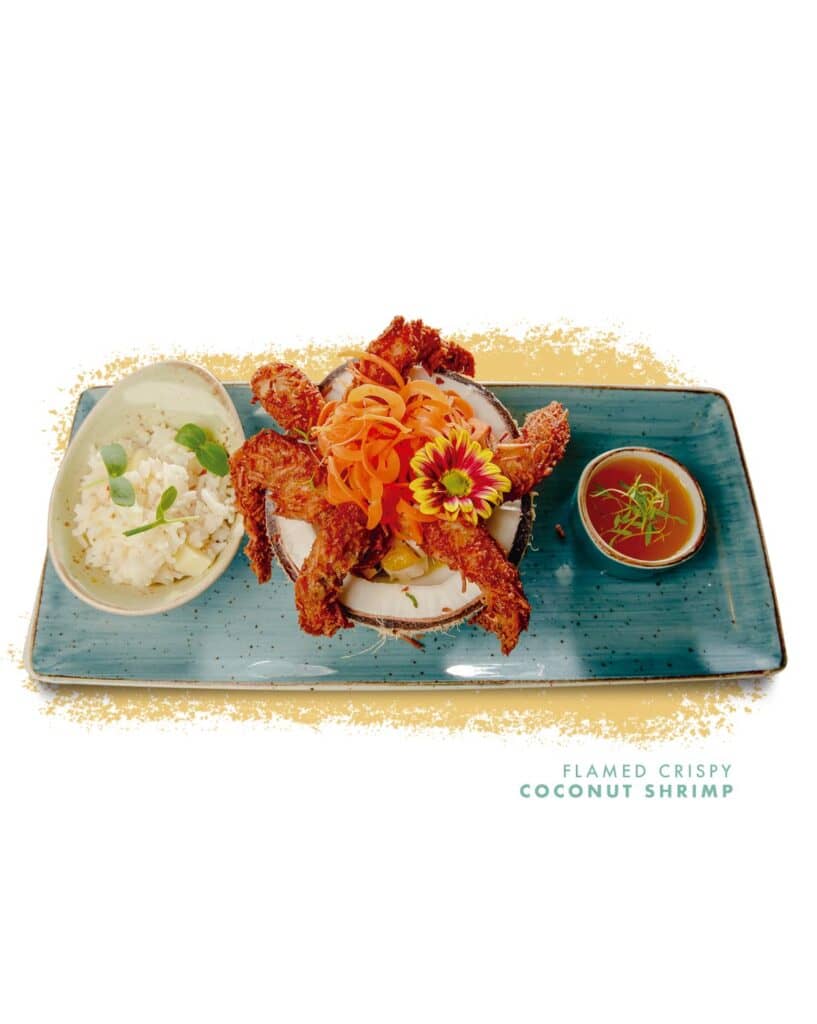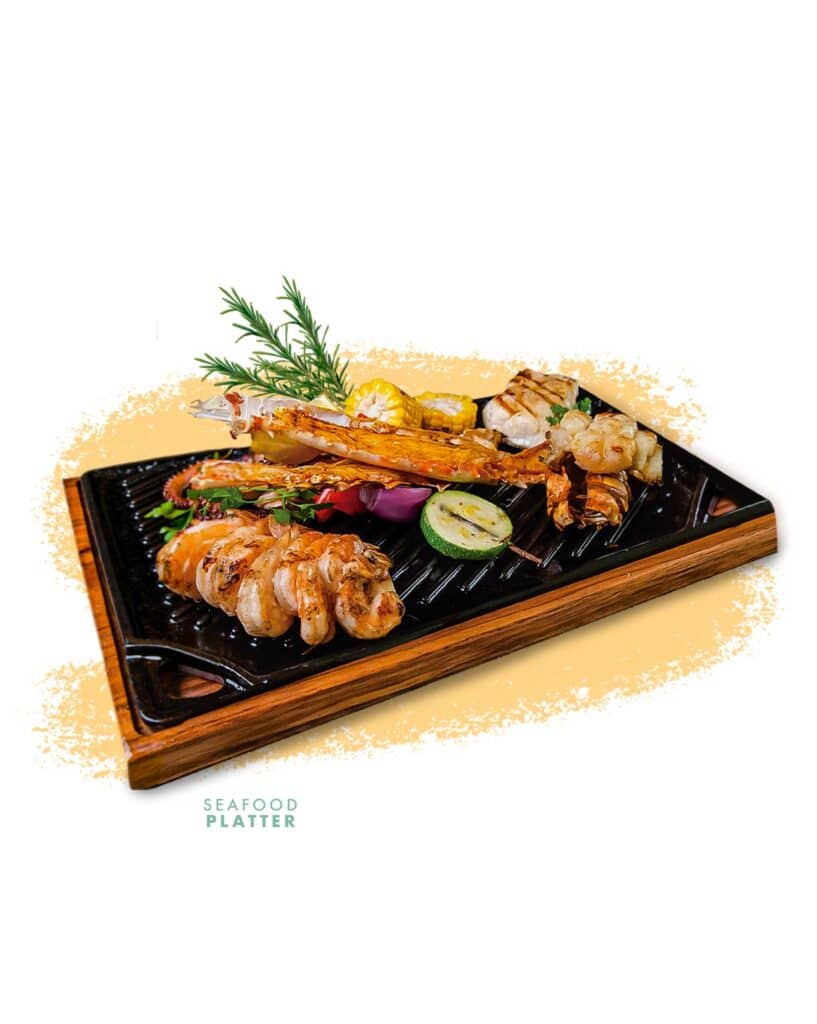 SHELLFISH PLATTER
Alaskan King Crab (9 oz), stone crab (7 oz), caribbean lobster tail (4.5 oz), shrimp (5 oz), East Coast oysters (10 pcs) tartar sauce, tropical sauce with mango, butter and cocktail sauce
SEAFOOD PLATTER
Grilled. Alaskan king crab (9 oz), caribbean lobster tail (6 oz), octopus (5 oz), fish fillet (8.5 oz), shrimp (7 oz) and vegetables.
Includes two sides to choose from
NEPTUN SURF AND TURF
Alaskan king crab (9 oz), octopus (5.5 oz), shrimp (7 oz), lobster tail (6 oz) and vegetables.
CHOOSE YOUR MEAT CUT:
Rib Eye 12 oz
Mignon Fillet 8 oz
Includes two sides to choose from